Welcome to the Devon Palms Self Catering Cottages
All of our Cottages come complete with all facilities required to fully enjoy your stay.
The booking is completed through our trusted partners at Cottages.com, but we are onsite to assist should any issues arise.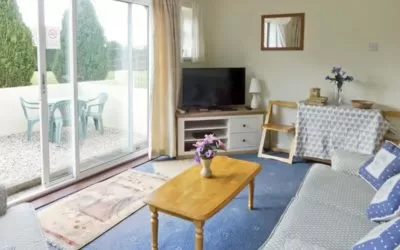 Appletree Bungalow Copper Tree Honeysuckle Bungalow Palm Tree Cottage Appletree Appletree Bungalow is a semi detached 2 bedroom holiday bungalow, with a double bedroom and a room with full sized bunkbeds. The lounge has comfortable seating, with chairs and a TV. There...
read more
Call now on
for the latest discounts on all Cottages and Apartments
Sep 18, 2018
Wonderful holiday
I wanted to take my children to a place l loved visiting during my childhood. When we arrived we were greeted by David & Helen, who were so kind and helpful. We stayed for one week and had such a wonderful time, the children loved staying their too, they took full advantage of the playground on the grounds. We all had such an amazing week and would love to visit their again. With such great things to see and do, beautiful beaches and stunning countryside.
Hello Rebecca and Simon. So pleased Devon lived up to your childhood memories. We enjoyed having you in Palm Tree Cottage and hope you will come back soon. Thanks for your feedback. David and Hellen.
Book Devon Palms Apartments or Cottages Online
More information on Devon Palms