Welcome
Devon Palms is a collection of Holiday Cottages and Holiday Appartments set in 1 acre of a picturesque hamlet in Maidencombe, and are situated within walking distance of a peaceful bathing cove, with many beautiful views over the bay.
Over the past few years we have made a number of improvements to all of the Cottages and Apartments to make your stay even more enjoyable.
We look forward to seeing you in Devon Palms in 2021.
Maidencombe is only 10 minutes away from the centre of Torquay, and Teignmouth with its lovely safe sandy beaches is approximately the same distance. Both towns offer a rich variety of daytime and evening entertainment, with many Restaurants offering some of the best cuisine in Torbay.
The hamlet of Maidencombe (mentioned in the Domesday Book, 1086) is on the most northerly reach of Torbay. Torbay is relatively densely populated and yet Maidencombe, still a part of Torbay, remains rural with a backdrop of farmland and facing North/East stretches down to the wonderfully rich Devon sandstone cliffs which overlook the sea and Lyme Bay. This red sandstone is responsible for the soil's red colour and sometimes cloying texture, but is a feature of the local farmland.
Maidencombe is also on the coastal path route enjoyed by many on holiday and is controlled by the local authorities as an area of preservation and managed by the Torbay Coast and Countryside Trust. Maidencombe has always been popular with residents of Torbay and this naturally attracts visitors who appreciate nature, views, walks and the country style of life, yet are within striking distance of a decent sized town.
Torquay is less than 4 miles away, which can be reached either on foot, via the coast path (recommended for walkers) by car or by bus, passing through St. Marychurch and Babbacombe on the way.
Within easy reach of Devon Palms holiday cottages and apartments are facilities for all types of sport, sailing, fishing, water skiing, windsurfing, diving, swimming, tennis, bowls, 10-pin bowling, golf and walking.
There are numerous pretty Devon villages in the surrounding area as well as stunning country and coastal walks. The rural splendor of Dartmoor with its walking, horse riding etc, is only a half hour car journey away.
All Guests benefit from
Free WIFI across site

Close to attractions

Close to beaches

Access to Shared Gardens

Onsite Parking with 24 hour CCTV
---
Contact Us
DevonPalms,
Teignmouth Road,
Maidencombe,
Torquay,
TQ1 4TH
01803 324 000
We are extremely proud having been awarded  Guest Review and others awards by Booking.com.
Thanks to everyone who stayed and reviewed us. We appreciate each and everyone of you and would love to see you back at Devon Palms soon.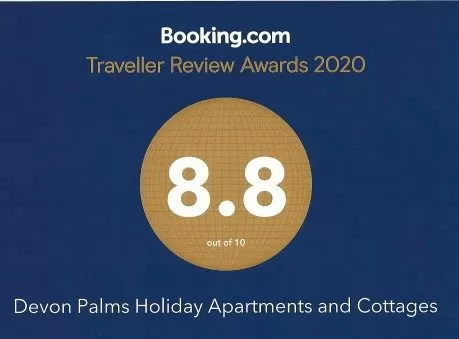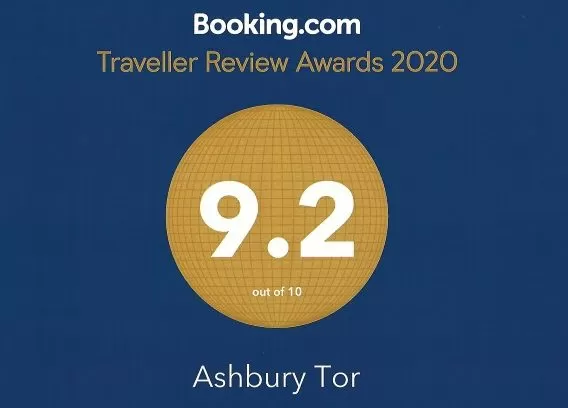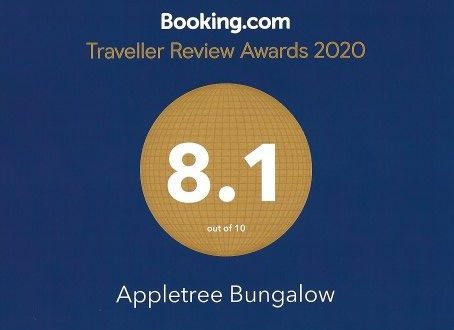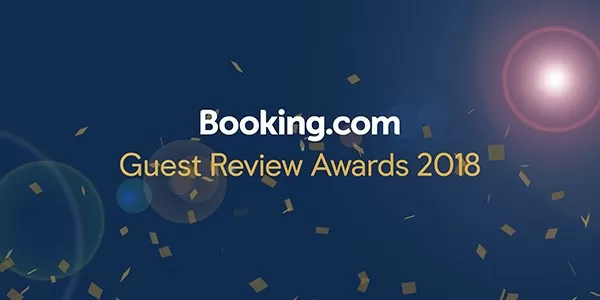 Call now on
for the latest discounts on all Cottages and Apartments
Where is Maidencombe?
Maidencombe is on the coastal road, halfway between Teignmouth and Torquay on the Teignmouth Road (A379).
Where can I find information about what to do in the area?
Maidencombe is a great base for exploring the Teignmouth and Torbay areas. The area known as the English Riviera has many activities and attractions, which can been seen on the English Riviera website. The Southwest Coast Path passes through Maidencombe and is a very popular walking area.
How do I book?
You can book by calling David or Hellen on 01803 324000. There are also links on the Cottages or Apartments descriptions pages and to help you book online.
When can I check in and out?
Normal check in time is after 2pm on the day of arrival.  Check out is by 10 am on the day of departure.
Is there a bus stop nearby?
Yes, Maidencombe Cross bus stop is within a few yards of Devon Palms. There are frequent buses going to Teignmouth, Torquay, Paignton and Exeter.
Are there any beaches nearby?
There are many beaches around the area, Maidencombe Beach is about 500 meters away, with the other nearby beaches being Shaldon, Teignmouth, Watcombe, Babbacombe, Torre Abbey and Meadfoot.
For information on the beaches please visit Devon Beach Guide
See what our Customers are saying about Devon Palms
Sep 6, 2019
Devon Palms Holiday
We holidayed here in August. David greeted us on arrival and gave us very helpful information on the local area and suggestions of where to eat. The local pub food is amazing. Our 7 year old loved the play area at the back which is very safe. And our little dog had his own safe space behind the gate. Our apartment was lovely and spotlessly clean. We will definitely be back.
Hello Liz, Thank you for your feedback. We are happy you enjoyed your time at Devon palms and we look forward to seeing you all again. David and Hellen.